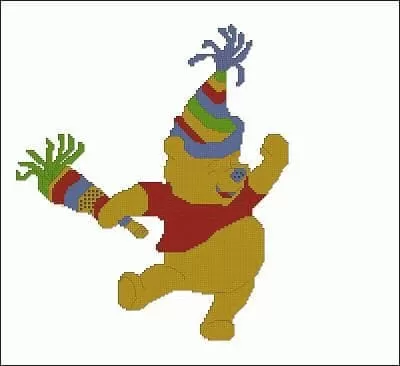 Cross-stitch design "Dancer Winnie"( for cushions)
Cross-stitch design "Winnie the Pooh"- Dancer Winnie( for cushions).It's  very cute design can be used for pillows
because its dimensions are suitable for this purpose! Pattern is given in 4 sizes, so you can choose what is right  for your purpose. Just another Disnay  cross-stitch design...
Pattern Name:  Dancer Winnie
Designed By: Cross-stitch club
Company: Cross-Stitch Club
Copyright: https://cross-stitching.biz
Fabric: Aida 14, White
136w X 158h Stitches
Size . . .
Only premium status members can view the download link .
Not premium member yet? Upgrade your status now and get unlimitted access to all  cross-stitch designs for 7  or 30 days ! From 3,90 $ only!
Pay with the  safely method of Pay Pal!   (There are no hidden costs. The subscriptions are not recurring.)
or if you are member Login