Cross-stitch design "Roses" by Alice B. Chittenden
Cross-stitch design "Roses" by Alice B. Chittenden
This project  was created for needlepoint but with 24 colors of threads DMC you can cross-stitching   this fabulouse design.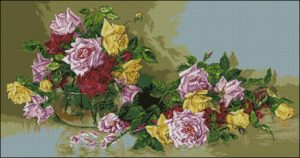 Alice Brown Chittenden (October 14, 1859 – October 13, 1944) was an American painter based in San Francisco, California who specialized in flowers, portraits, and landscapes.
Pattern Name: Roses by Alice Brown Chittenden
Fabric: Aida 14, White
360w X 190h Stitches
Size(s): 14 Count, 65.31w X 34.47h cm
11 Count, 83.13w X 43.87h cm
16 Count, 57.15w X 30.16h cm
18 Count, 50.80w X 26.81h cm
Format: PDF colored symbols
Colors 24 DMC
Download:
Get it!
Don't miss new cross-stitch pattern for cushion "Teatime"
See also another cross-stitch patterns flowers roses
New cross-stitch pattern with roses
If you enjoyed this article, subscribe to receive more just like it

Don't forget to confirm your subscription (if you don't find our message in your inbox, check your Spam folder)