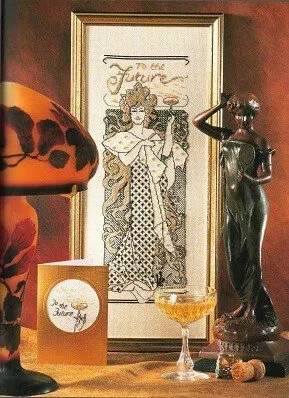 Champagne Lady by Alphonse Mucha – blackwork pattern
Champagne Lady by Alphonse Mucha - blackwork pattern
Alphonse Mucha's art nouveau style is characterised by sensuous ladies with twisting, swirling hair. This
Champagne I.ady Picture and Celebration Card capture his flamboyant style and flowing lines.
In the Champagne Lady, Mucha's swirling outlines are stitched in back stitch or double running stitch. The black and gold colouring and decorative nature of blackwork seem ed appropriate for this design, so 1 have translated the areas of colour on the poster into different blackwork patterns .Blackwork is a traditional . . .
Only premium status members can view the download link .
Not premium member yet? Upgrade your status now and get unlimitted access to all  cross-stitch designs for 7  or 30 days ! From 3,90 $ only!
Pay with the  safely method of Pay Pal!   (There are no hidden costs. The subscriptions are not recurring.)
or if you are member Login