Free Cross-stitch pattern "The Last Supper"
Free cross-stitch pattern "The Last Supper" -the famous "Last Suppe"r exists as cross -stitch pattern now !
The Last Supper  is a late 15th-century mural painting by Leonardo da Vinci in the refectory of the Convent of Santa Maria delle Grazie, Milan. It is one of the world's most famous paintings
The work is presumed to have been commenced around 1495 and was commissioned as part of a plan of renovations to the church and its convent buildings by Leonardo's patron Ludovico Sforza, Duke of Milan. The painting represents the scene of The Last Supper of Jesus with his disciples, as it is told in the Gospel of John, 13:21. Leonardo has depicted the consternation that occurred among the Twelve Disciples when Jesus announced that one of them would betray him.
Due to the methods used, and a variety of environmental factors, as well as intentional damage, very little of the original painting remains today, despite numerous restoration attempts, the last being completed in 1999.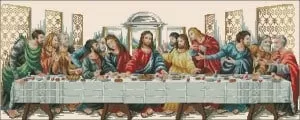 Pattern Name: The Last Supper
Fabric: Aida 14, Cream
380w X 147h Stitches
Size(s): 14 Count, 68.94w X 26.67h cm
11 Count, 87.75w X 33.94h cm
16 Count, 60.32w X 23.34h cm
18 Count, 53.62w X 20.74h cm
Colors: 49 DMC
Format: PDF, colored symbols ,  RAR archive Get it!
See also another cross-stitch designs created based on works by artists
Don't miss new cross-stitch design Sailboat
If you enjoyed this article, subscribe to receive more just like it

Don't forget to confirm your subscription (if you don't find our message in your inbox, check your Spam folder)