The Kiss by Gustav Klimt-cross-stitch design
The kiss by Gustav Klimt-cross-stitch design-sounds nice?
The famous "The Kiss" by Gustav Klimt now may be an excellent cross-stitch embroidery and nice detail of an interior!
The Kiss (Lovers) was painted by the Austrian Symbolist painter Gustav Klimt between 1907 and 1908, the highpoint of his "Golden Period", when he painted a number of works in a similar gilded style. A perfect square, the canvas depicts a couple embracing, their bodies entwined in elaborate robes decorated in a style influenced by both linear constructs of the contemporary Art Nouveau style and the organic forms of the earlier Arts and Crafts movement. The work is composed of oil paint with applied layers of gold leaf, an aspect that gives it its strikingly modern, yet evocative appearance. The painting is now in the ?sterreichische Galerie Belvedere museum in the Belvedere palace, Vienna, and is widely considered a masterpiece of the early modern period. It is a symbol of Vienna Jugendstil—Viennese Art Nouveau—and is considered Klimt's most popular work.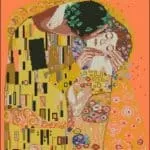 Pattern Name: The Kiss
Fabric: Aida 14, Cognac
168w X 204h Stitches
Size(s): 14 Count, 30.48w X 37.01h cm
16 Count, 26.67w X 32.38h cm
18 Count, 23.71w X 28.79h cm
Format: PDF, colors 22 DMC
Get this amazine cross-stitch design free! Get it!
You must see it: free cross-stitch design Old Prague
You also may like Hardanger embroidery
If you enjoyed this article, subscribe to receive more just like it

Don't forget to confirm your subscription (if you don't find our message in your inbox, check your Spam folder)